Our programs are client-focused and client-directed. If you are a client or a potential client and there is a specific program or service that you are looking for, please contact us and let us know. We can probably put something together, because chances are that you aren't the only person who is interested.
Below is a description of our current and future programs, but please be sure to check our social media pages and our calendar for up-to-date information about our program offerings for the month.
During the week we have daily programming running on various topics. Click here to view our program flyer.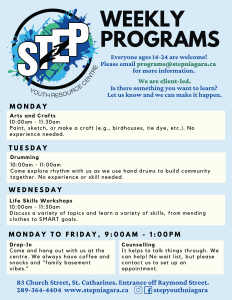 Individual counselling - we currently offer private, confidential counselling on a one-on-one basis. Our counsellor Carrie is a registered SSW
Safe space / drop-in - Access to computers with internet access, coffee maker, art supplies etc
Wellness community connection: We offer regular workshops on aspects of wellness such as self-care, self-compassion, grounding techniques, etc., as part of our "Wellness Community Connection" We offer three different sessions over Zoom: Parent information session, one for ages 12-14, and one for ages 15-17. This is a 4 week program
Garden: We have recently planted a small garden outside our Centre. Clients are welcome to help maintain and care for the garden. We have planted tomatoes, cucumbers, and herbs this year and are hoping to expand next year if the garden is successful.
Art program: We are developing a series of art workshops and programs that will cover such topics as basic drawing skills, elements and principles of design, and some painting techniques. Programs will be multi-week, and require registration ahead of time to secure a spot. Workshops will be single-sessions, but will also require registration. For more information, please visit our calendar to see what we are offering this month.